The number of pedestrian and cyclist fatalities are going up in the Garden State. 
A recent NJ.Com article reported that deaths among cyclists and pedestrians in 2021 were the highest reportd in more than 30 years, with cyclists and pedestrians killed representing 35% of all traffic fatalities.
The article also noted that the Governors Highway Safety Association data showed that nationally, between 2010 and 2019, these fatalities increased by 46%, from 4,302 in 2010 to an estimated 6,301 in 2019.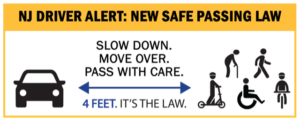 The NJ Safe Passing Law (NJSPL) (A5570/S2208) is now in effect. The new law provides clear rules of the road for all motorists about when and how to pass people sharing the road on foot, on bicycles, on scooters, wheelchairs or in other legally permitted ways to travel other than a motor vehicle.
Here are several links to information and resources that you may find helpful to keep more pedestrians and cyclists safe in your community.
NJ Division of Highway Traffic Safety
NJ Department of Transportation – Bicycle Safety ActionPlan 
National Highway Transportation Safety Administration (NHTSA)
MEL Safety Institute
EZ Ride Bike and Pedestrian Program 
Alan M. Voorhees Transportation Center (Rutgers)