Cyber Risk Control Resources
OCTOBER IS CYBER SECURITY AWARENESS MONTH
 SCROLL DOWN FOR TIPS AND BEST PRACTICES TO STAY CYBER SAFE!
Cyber Task Force Feature Article
This article, "Cyber Security Challenges and COVID-19: Network safety in the office and working from home," was featured in the NJ League of Municipalities Magazine October 2020 "Cyber Security & The Pandemic," edition.
The article was a joint collaboration between the MEL Cyber Task Force and the New Jersey Cybersecurity and Communications Integration Cell. 
Click here to read the article.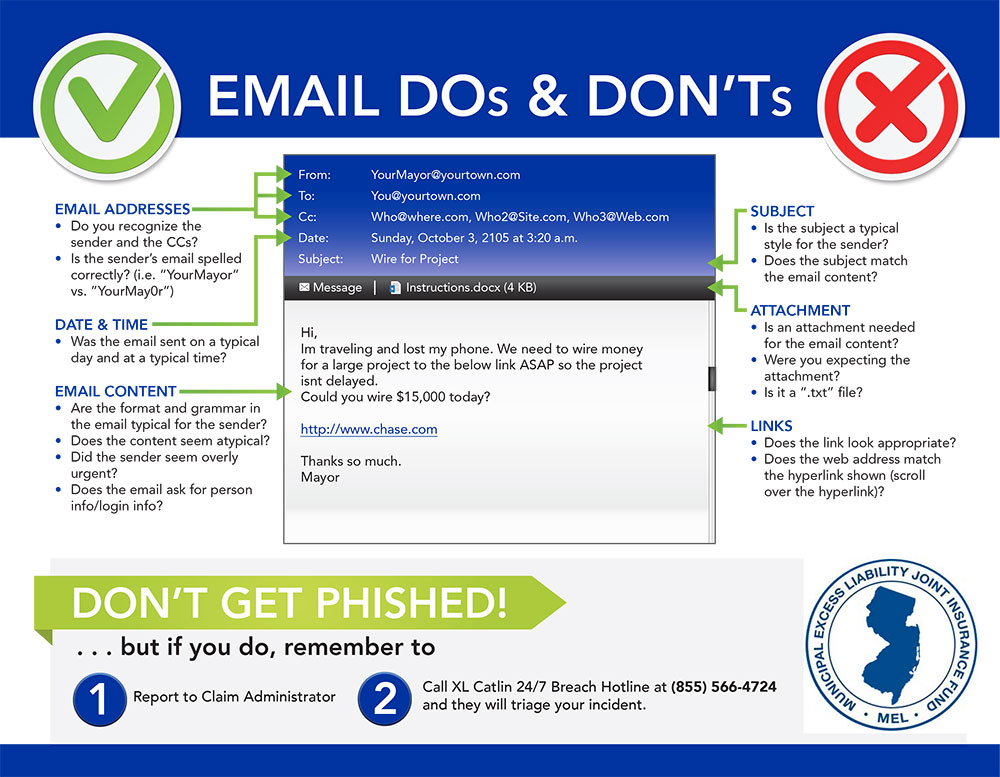 October is Cyber Security Awareness Month
The line between our online and offline lives is indistinguishable. In these tech-fueled times, our homes, societal well-being, economic prosperity, and nation's security are impacted by the internet. For hackers, this can be a goldmine.
Do Your Part! #BeCyberSmart
300,000 thousand new pieces of malware are created daily. (Web Arx Security)
Ransomware spiked by 150% in 2020. (Help Net Security)
Email is responsible for 91% of all cyberattacks. (Deloitte)
The MEL, which features an extensive Cyber Risk Control and Cyber Risk Management program and has a Cyber Task Force to keep members informed of educated about trending cyber threats, has renewed its commitment to serve as part of the Cybersecurity Awareness Month Champions Program.  This is a collaborative effort among businesses, government agencies, colleges and universities, associations, nonprofit organizations and individuals committed to promoting this year's theme: "Do Your Part. #BeCyberSmart."
The goal is to empower individuals and organizations to own their role in protecting their part of cyberspace.  The overarching message dives into the importance of keeping connected devices safe and secure from outside influence. More than ever before, connected devices have been woven into society as an integral part of how people communicate and access services essential to their well-being.
Data collected from these devices can detail highly specific information about a person or business which can be exploited by bad actors for their personal gain.
Cybersecurity Awareness Month aims to shed light on these security vulnerabilities while offering guidance surrounding simple security measures to limit the susceptibility of threats for commonly used devices.
The focus areas will revolve around these four main topics:
Be Cyber Smart: As our lives have become increasingly dependent on technology, virtually all personal and business data is kept on internet-connected platforms, which can become a gold mine for bad actors.The first full week of Cybersecurity Awareness Month will highlight best security practices and focus on general cyber hygiene to keep your information safe. Own your role in cybersecurity by starting with the basics.
Fight the Phish: Phishing attacks and scams have thrived since the COVID pandemic began in 2020 and today, phishing attacks account for more than 80 percent of reported security incidents.
Experience. Share – Cybersecurity Career Awareness Week led by National Initiative for Cybersecurity Education (NICE) is a week-long campaign that inspires and promotes the exploration of cybersecurity careers.
Cybersecurity First: Make security a priority. For businesses, this means building security into products and processes. Make cybersecurity training a part of employee onboarding and equip staff with the tools they need to keep the organization safe.
If everyone does their part – implementing stronger security practices, raising community awareness, educating vulnerable audiences or training employees – our interconnected world will be safer and more resilient for everyone.
Now in its 18th year, National Cybersecurity Awareness Month (NCSAM) continues to raise awareness about the importance of cybersecurity across our Nation, ensuring that all Americans have the resources they need to be safer and more secure online.
"Cybersecurity is important to the success of all businesses and organizations. NCSA is proud to have such a strong and active community helping to encourage proactive behavior and prioritize cybersecurity in their organizations," said Kelvin Coleman, Executive Director, NCSA.
The MEL is proud to be a Champion and support this far-reaching online safety awareness and education initiative which is co-led by the National Cyber Security Alliance (NCSA) and the Cybersecurity and Infrastructure Agency (CISA) of the U.S. Department of Homeland Security.
For more information about Cybersecurity Awareness Month and how to participate in a wide variety of activities, visit staysafeonline.org/cybersecurity-awareness-month/ . You can also follow and use the official hashtag #BeCyberSmarton social media throughout the month